WEDDING FAQ
Click on a question to view the answer.
1. Why choose Beth W Photography?
Many reasons, here are just a few!
I'm proud to be independently and privately owned by one member, myself. Photography is a full time job for me and it is my passion in life!
A lot of my business comes from referrals, meaning; past clients refer their friends and family to me. This speaks volumes about not only my work but also working with me!
Affordability! One of the most important aspects of my business is being able to offer a professional high quality service at an affordable price! I am married myself, I know what it is like trying to find a quality photographer that does't cost an arm and a leg. I am fortunate enough to be able to do what I love for a living and offer my services at a reasonable price!
When you view the wedding images on my website, you are seeing my work of real people from real weddings! Some photographers display images on their website that they have taken at classes and workshops. Those type of images do not accurately represent the photographers true talent since the subjects are typically models and everything is choreographed and staged. Also, with a recent trend towards national chains and large studios, many websites show you the best work from dozens of photographers, but maybe none from the photographer who will actually be shooting your wedding. And you may not even meet or get to talk to your actual photographer prior to your wedding day.
I am a one stop shop! I take my own images, do all of my own edits and retouching, and custom design my own keepsakes like photo cards and albums! I take a personal approach to your wedding day, handling all of the preparation and correspondence with the happy couple myself, to make sure your images stay true to your day. This allows you the ability to contribute in my creative process if you so choose to. And since I handle everything myself, turn around time is quicker (you receive your wedding package a lot quicker than most photographers can offer)! I give each client the respect and attention they deserve!
To view testimonials by past clients, click here.
2. How would you describe your photographic style?
I offer a unique blend of contemporary and traditional styles. Incorporating a candid and documentary coverage, I am able to capture the natural beauty of your special day in an unobtrusive manner. Every wedding has it's own mix of traditional and modern, formal and casual, the spontaneous and rehearsed. Capturing these once in a lifetime moments is what excites me to pick up a camera!
3. Why choose a professional wedding photographer?
With all of the checks you've been writing recently, it may be tempting to use your aunt or friend that dabbles in photography as your wedding photographer. I do encourage and strongly recommend that you hire a professional wedding photographer, whether it's me or another professional. When you choose a professional photographer, you are investing in your wedding memories. After your wedding day, what are you left with to remember it...the top layer of your wedding cake and a now used wedding dress? You deserve a professional that's ready for anything and whose sole job is to capture the emotions, the reactions, and all the little moments of your day!
4. What is the first step in booking a professional photographer?
I believe that you should get to know your photographer and feel more than comfortable with whomever you choose! The first step is finding out if I am available for your wedding date and scheduling a consultation. Depending on your location and schedule (planning a wedding can take up a lot of your time) we can meet up or do the consultation via phone and email! A face to face consultation is not required, but I do encourage it! In the end, the most important thing is that you feel comfortable with the process!
5. How far in advance should we book your services?
Typically I am booked anywhere from a year and a half to six months in advance. The earlier you plan, the more likely that I will be available for your date. I have actually photographed a wedding with one months notice. Someone had their photographer cancel on them and I just happened to be available!

If you are planning a wedding during the 'hot months' of April- September please take notice, as these dates tend to book very quickly. I'd love to capture your wedding, however, due to a high volume of same-date requests, all wedding dates are reserved on a first-book (contract + deposit) basis.
6. How do we find out if you are available on our wedding date?
7. How do we reserve your services for our wedding date?
A signed contract and deposit are required to reserve your date. The non-refundable deposit of 30% of the total amount owed is due upon signing a contract. The remaining balance must be paid in full two weeks prior to your wedding date. You may make partial payments up to your final payment.
8. What type of payments do you accept?
I prefer payment by check, but I do accept credit card through PayPal. You do not need a PayPal account to make a credit card payment. Please make check payments out to: Beth W Photography
9. What experience do you have with non-traditional wedding ceremonies?
I have experience photographing a variety of non-traditional wedding ceremonies; boats, parks, bed and breakfast, and candle-lit ceremonies. I have even photographed a wedding ceremony that was held in a cave that was once used for storing wine barrels. You name it, I am up for it!

10. Do you travel outside of the twin-city area? What travel is included?
I will travel to any location that is 60 miles from 55443. There is no additional cost for this 60 miles.
11. How are your wedding packages structured? Can we add more coverage time?
I offer 4 different wedding packages which include different wedding keepsakes. All of the wedding packages do include a disc of wedding images with a release certificate and a website gallery. In additional to the different keepsake items available, the packages are available in different amounts of coverage time, ranging from 4-8 hours (I am available for more or less time). I do not charge a flat day rate for my services because I understand that not every ones needs a full day of photography coverage and not everyone has the budge for it! Once you have chosen a wedding package, with your specific amount of coverage time, you are able to add more time if needed. This can be done a month before the wedding, 2 weeks prior, or even on the night of if things run behind and you want me to stay later.

12. When can keepsake items be purchased?
Keepsake items such as wedding albums, canvas wraps, signature mat guestbooks, and photo cards can be purchased at anytime. Any of these keepsakes can be included in your initial wedding package but they can be purchased even after your wedding date! Since the 'Save the Date' photo cards and guestbook mats would be used prior to, guestbook mat is actually used at your wedding, they would be purchased beforehand.


13. Do you edit your own images? Do you design your own albums?
Yes, I handle every aspect of your images which includes creative editing, touching-up, and album designs. In this regard, I am a 'boutique' operation, I actually personally handle everything from start to finish!

14. What kind of touching-up and editing is included in your wedding packages?
I do a variety of blemish, spot, and color correction. Every image is inspected by myself to ensure that it meets Beth W Photography standards. All wedding packages includes a mix of color and black and white images. I also offer editing effects such as 'touch of color' (black and white with a color accent), 'antique' (type of faded sepia), 'white vignette' (white shading around border), 'sepia' (brown colored tint), and 'midnight' (high contrast and color saturation) at no additional cost! I can include specific effects based on your preferred taste! See examples below of these effects.
15. How many images will I receive with my wedding package?
The amount of images you receive with your wedding package varies with the amount of coverage time, see table below. Since I shoot digital, I tend to be heavy with the trigger finger. However, I do feel that quality is more important than quantity when it comes to your wedding images. And in the end, I strive for both!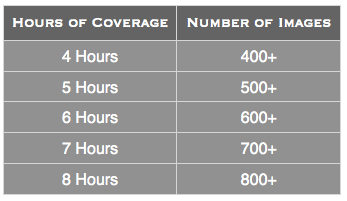 I have photographed an 8 hour wedding and delivered over 1,200 images to the client.
16. Can I make prints with the disc that is included in my wedding package?
YES!! Of course!! The disc of images, included with all of my wedding packages that I offer, is intended for you to print and share! The image files on the disc are very large files; this allows you to not only print them in a standard size but also enlarge them! Once you receive your wedding package, I do recommend that you copy the image files to your computer so that you have a backup of them.
When printing from your disc please know that I am unable to guarantee the final print results due to variabilities between photo labs. I highly recommend using a professional lab, someone that specializes in printing, such as National Camera Exchange or Lindhoff Photo
(I am not affiliated with these businesses in any way, they do not pay me to recommend them, I wish!)
. The quality from a professional lab is far superior than your location department store's photo department. If you don't use a professional lab, you won't be happy and unfortunately, it won't represent me and my work in the best light. Keep in mind, you can always order professional prints, convenient and easy, through your website gallery!
17. When will our wedding package be ready?
Each wedding package varies in completion time so your package could be ready anywhere in between 2-8 weeks. Regardless of package type, all images are viewable on your private gallery within 1-2 weeks of your wedding. Since the Basic Wedding Package does not include an album, it is ready within 2-3 weeks. If your wedding package includes a wedding album it will take around 4-8 weeks to be ready.


18. How do you handle the group portraits?
Prior to your wedding, I provide you with a 'Group Portrait' template. The list helps me keep everyone organized, saves time, and ensures that you get the group portraits that you want! This list does not need to be returned to me till about 1-2 weeks before your wedding day. At that time we will finalize your photography timeline.
If your wedding ceremony is held at a church, I typically take the group portraits in the sanctuary. If the weather is nice and there are garden areas outside of the church, it is always fun to take the wedding party outside for a few shots! I am also open to stopping by a park or garden with the whole wedding party or just the bride and groom! This can be done after the wedding ceremony and on our way to the reception site. Once I start, there are no extra travel fees to go to an additional location!
For more information, and to view the 'Group Portrait' template, click here!
19. How do you photograph the bridal 'Getting Ready'?
I understand that some brides and bridesmaids may be shy about having a photographer in the room at certain moments while they are 'getting ready'. I remain professional at all times, but if there is a concern about this, I can happily wait outside until everyone is ready to a point where they feel comfortable. When possible, I do like to capture the wedding dress being laced or zipped up and the final touches like putting jewelry and garter on!


20. What is the viewing website? Can my friends and family order prints?
The viewing website is your own personal and private page for viewing your images. The viewing website a great way for your guests to view your wedding images as well! Print purchasing is available so your friends and family can order professional prints through the website and have them mailed directly to their home (see next question for more information about print purchasing)!

The website allows you to see your images AS SOON as they are ready but it also allows you to start making image selections for keepsakes like a wedding album. The viewing website is private and not directly linked from my main website. A web address for the gallery will be provided prior to your wedding, giving you the opportunity to include it on Save the Date cards, programs or Thank You cards. The images are posted within 1-2 weeks and are viewable for 90 days after your wedding date unless otherwise requested!

You will notice that I do not refer to it as a 'Proofing' website. Proofing implies that the images are unedited and untouched. That is not the case with my services; all images have been assessed, edited, and retouched!


21. How does the print purchasing work?
Professional print purchasing is available for your friends and family through your viewing website.I personally handle and process each order. I offer wonderful print prices, ranging from $1.50 for a 4x6 to $8.00 for a 8x10, and $16.00 for a 11x14. Shipping is handled through USPS Mail. My print prices are very reasonable and competitive when compared to other local photographers. I have seen other wedding photographers charge anywhere from $10 to $30 for a single 4x6 print.

Since your wedding package includes a disc of your images, you do not have to order prints thru me. You can of course if it is more convenient for you!

22. How do you arrange the engagement session? What is included?
Engagement sessions are done "on location", as I feel that studio sessions do not allow for as much freedom and creativity for this type of portrait. With that being said, engagements sessions can be at almost any location. If you have a favorite spot, just let me know! An engagement session does not include a set amount of poses but it does typically last anywhere from 45 minutes to an hour. The engagement session, just like my wedding packages, include a disc with all of your retouched high-resolution images which is ready one-two weeks after your shoot. You also receive rights to print the images, share them with friends or family, display them for internet personal use, publish them in a newspaper for an engagement announcement. Once you have booked my services, we can schedule your engagement session date and time. I like to get it on the calendar about a month in advance. I am available weekdays, most Sundays, and very limited Saturdays during the summer.
Looking for location suggestions? Click here!
In need of engagement attire suggestions? Click here!
23. What are the differences between the wedding albums?
The Hard Cover Album has a printed hard cover. It measures 8x8 inches and the pages are printed on professional photographic paper. It contains 30 pages (15 pages double sided), and can include 60-75 of your favorite images. The hard cover album is handcrafted in Italy.
Click here for to view options and examples.
The Metallic Album has a metal-plate front cover and leatherette spine and back cover. It measures 12x8 inches and the pages are printed on professional photographic or metallic paper. It contains 30 pages (15 pages double sided), and can include 60-75 of your favorite images. The metallic album is handcrafted in Italy.
Click here for to view options and examples.
The Leather Album is a timeless piece made from Italian leather. It measures 12x8 inches and the pages are printed on professional photographic or metallic paper. It contains 30 pages (15 pages double sided), and can include 60-75 of your favorite images. The Leather Album is handcrafted in Italy.
Click here for to view options and examples.
The Wedding Pocket Album is available in addition to the Metallic and Leather Albums. Available in packs of 8, they measure 5x4 inches. The Pocket Wedding Album is a copy of your Metallic or Leather Album, just in a smaller size! It includes the same layout and all of the same images as your wedding album. The only differences are that the Pocket Wedding Album has a standard soft cover and the pages are printed on smooth paper. It is also handcrafted in Italy.
Click here for to view options and examples.
You do have the option of choosing the images for the album yourself, having me choose them for you, or choosing them together! An album is the perfect memory keepsake of your special day! Duplicate albums can be ordered at a discounted rate, they also make great parent and grandparent gifts!
24. What is a DVD Slideshow?
The DVD slide show is a DVD disc that you can watch in any regular DVD player. It is a slideshow set to your music of your choice or something from my collection. The photographs are arranged to reflect your day, using elegant transitions from photograph to photograph. It consists of around 60 images and last around 4-5 minutes long. A DVD slideshow is a great way to show off your wedding day and makes a great gift for friends and family members. The DVD slideshow is $80.00 and additional copies cost $10.00 per.


25. What is a Photo Card?
26. What is a Canvas Gallery Wrap?
A Canvas Gallery Wrap is a canvas printed with an image and stretched over 1 1/2 inch deep hardwood bars. Several sizes are available; 11x14, 16x20, 10x30 (panoramic), and even an amazing 30x40 inch. Your favorite image is printed on a cotton-blend canvas and covered with a matte laminate finish that enhanced color depth and protects from UV light. The image wraps around the edges for a three-dimensional look that will stop people in their tracks. The Canvas Gallery Wrap comes with a paper backing and hanging hardware already installed for you. It is ready to be hung as is!
The canvas is perfect for above the mantel or fireplace or even above the bed! Also makes a great parent or grandparent gift!
Click here for more information!!
27. What is a Engravable Signature Mat Guestbook?
The
Engravable Signature Mat Guestbook
is similar to a white photo mat that guests sign with an ink pen but instead of writing on the mat with a pen, the signature is engraved into it. The mat is made from a high luster alloy so when your guest uses the special engraving scribe that is included, their signature and best wishes are engraved instantly into the mat. It is a 16x20 mat that holds an 8x10 inch print of your favorite engagement session image! The mat can hold up to around 175+ signatures. The Engravable Signature Mat Guestbook is complete with a frame.
To learn more about the Engravable Signature Mat Guestbook and to view the different frame styles available, click here!
38. What kind of equipment do you use?
I shoot with professional Canon equipment and only professional lenses.
29. Do you carry backup cameras and equipment?
YES! Camera or equipment problems can happen at anytime and to the best photographers. Every wedding I shoot, I come fully prepared with a backup camera, flash, batteries, etc! I even bring a packet of tissues for tears (yours and mine) and for blotting!
When picking a photographer for your wedding, a good question to ask would be, "Do you have redundant or backup equipment (ie: camera, flash, batteries, etc.)." If the photographer says, "no" you're taking a big risk on the most important day of your life!
30. What do you wear when photographing a wedding?
I arrive well dressed with black or gray pants, dress shoes, and a black or gray dress shirt. Upon request, I am able to wear attire that meets your specific wedding cultural needs.
31. Do you work with an assistant or second photographer?
I do prefer to work alone. It allows me to blend in with guests and cause as little disruption as possible. As an experienced professional, I can confidently cover most events alone. Unless your wedding is upwards of 500 guests, I do not feel it is necessary to have an assistant or second photographer. If having a second photographer for your wedding is something you had your heart set on, we can discuss the additional fees.
32. During a wedding, when do photographers usually find time to eat? Do we need to provide a meal?
If your wedding photography coverage continues into the reception and past dinner, I do need to take an opportunity to eat. I have found that most guests prefer to dine without cameras around so I usually take this time to grab a bite. In a buffet style dinner I always wait until almost everyone else has been served before I prepare a plate. In a formal sit down dinner, I do not expect the same food as guests (your caterer may offer a vendor meal) but it's always appreciated if that is your choice!


33. Are there any videographers that you can recommend?
I actually get this question a lot! Over the years I have worked with a lot a GREAT videographers and some not so great ones. Here are a few that I have personally worked with and would definitely recommend.
Lukas with Lens and Lantern http://www.lensandlantern.com/ (then click on wedding videography in bottom right corner)
Jason with Capture the Moments http://ctmoments.com
Jared with HD Push http://hdpush.com/
34. Do you have any wedding planning resources to share?